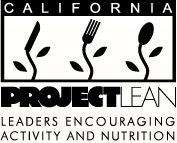 Building Projects Together
California Project LEAN plans, implements, and evaluates nutrition and physical activity projects from start to finish. We conduct formative research and develop and implement projects that include trainings, technical assistance, resource development, social marketing and media advocacy campaigns. We also conduct process and outcome evaluations and prepare reports on findings.
Our projects focus on strengthening individual and organizational skills and knowledge in order to increase organizational and community capacity to take action and implement policies and practices that increase access to healthy food and physical activity options.
For more information contact Katherine Hawksworth by writing to [email protected] or calling (925) 708-7027.