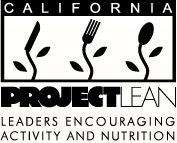 Panel Bios
Peggy Agron oversees California Project LEAN (CPL), the California Obesity Prevention Program and School Health Connections at the California Department of Public Health. She is the Department's lead for the biennial Childhood Obesity Conference, the nation's largest conference focused on pediatric obesity prevention. Ms. Agron is a recognized expert on school nutrition and physical activity policy. Under Ms. Agron's leadership, CPL received an Innovation in Prevention Award in 2004 and was first to quantify and publicize the proliferation of unhealthy foods and beverages on California campuses. Ms. Agron was part of a national expert panel that developed California nutrition standards for ala carte school foods and beverages. Ms. Agron also oversees California's Communities Putting Prevention to Work activities aimed at establishing policies to reduce access to sugary drinks and promote the joint use of school facilities. She has a master's degree in nutrition from California State University, Long Beach and is a Registered Dietitian.
Dr. Christine Wood is a practicing pediatrician in San Diego and author of the book, How to Get Kids to Eat Great & Love It! She is a frequent guest on TV and radio, and her articles and interviews have appeared in The Wall Street Journal, Newsweek, Fit Pregnancy, Parents, Baby Talk, and Parenting. She serves as the Co-chair of the San Diego County Childhood Obesity Initiative, which seeks to reduce and prevent childhood obesity in San Diego County by creating healthy environments for all children and families through advocacy, education, policy development, and environmental change. Dr. Wood is a co-investigator with the San Diego State University Research Foundation to evaluate a recreation site-based childhood obesity prevention program.
Rosa Garcia is the former Wellness and Character Development Specialist at Madera Unified School District for four years. She was the recipient of the Central California Regional Obesity Prevention Program (CCROPP) Local Cultivator Award in 2010. Ms. Garcia has a bachelor's of science from St. Mary's College and is working on her master's degree in leadership from Fresno Pacific.