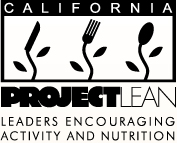 History
California Project LEAN began as a pilot project in the Bay Area in 1987 when it was selected as one of ten programs nationwide to participate in the Henry J. Kaiser Family Foundation's public awareness campaign to promote low-fat eating. This initiative used public service advertising, publicity, community efforts, and industry collaborations to promote behavior change to reduce the risks for heart disease and nutrition-related cancers.
In 1991, California Project LEAN expanded to 10 regional offices statewide in order to reach California's diverse communities. Throughout the 1990's, California Project LEAN worked with communities to promote healthy eating and physical activity through social marketing and policy change campaigns that addressed low-fat eating, bone health, youth engagement in schools, and increased fruit and vegetable consumption. One of these efforts involved partnering with monolingual Spanish-speaking promotoras to disseminate campaign messages.
Since 2001, much of California Project LEAN's work has focused on working with key community organizations, school stakeholders, and local physical activity and nutrition leaders to affect policy changes in schools that increase access to nutrition and physical activity options for students. These efforts included engaging school board members, parents, and youth in changing school nutrition and physical activity environments.